Compounding is essentially preparing customized medications to meet each patient's specific needs. This is done by using raw chemicals and other ingredients to produce medications that meet the unique and/or specific needs of the patient based on any number of factors such as age, weight, route of administration, hormone levels, etc.
These preparations are made by our trained and certified compounding technician according to your doctor's specifications. The demand for professional compounding has increased as healthcare professionals and patients realize that the limited number of strengths and dosage forms that are commercially available do not meet the needs of many patients.
Our compounding professionals can prepare:
Unique dosage forms containing the best dose of medication for each individual.
Medications in dosage forms that are not commercially available, such as transdermal gels, creams, ointments, suppositories, and lollipops to name just a few.
Medications free of problem-causing excipients such as dyes, sugar, lactose, or alcohol.
And a host of other preparations for a variety of therapies.
Compounding is also about problem solving. Sometimes a patient presents with a unique issue that requires thinking outside the box to treat. We work with you and your physician to come up with the best solution for your health.
Our practice is a proud member of the Professional Compounding Centers of America (PCCA) and the International Academy of Compounding Pharmacies (IACP).
A Sample Of Compounding Services We Provide
Pediatric
Sometimes a child needs a medication that is only available in a strength too strong for their size or in a dosage form that they are unable to take. With compounded medications, we are able to get them the medication they need in the exact strength they need based on age and/or weight. Often small children and infants are unable to swallow capsules and pills so we are able to formulate the medication into an oral liquid or suspension that we can flavor in a variety of pleasant tasting flavors based on you or your child's preference.
Veterinary
Animals come in many different shapes and sizes. Sometimes these require therapies that commercially available veterinary medications are unavailable for. Compounded medications are able to accommodate all the many unique properties that different animals have. These medications can be made in dosages based on the animals weight, or made into a dosage form that they will take like a food flavored treat or liquid, or into a transdermal gel when the animal refuses to take medication orally.
Ear, Nose & Throat (ENT)
We can compound tetracaine lollipops that help with throat pain from things such as strep throat or a tonsillectomy. The lollipops are able to numb the throat and relieve pain by not only contacting the area but also by providing medication without having to swallow a pill.
Pain Management
We are able to compound a variety of topical gels and creams for relief of pain. Active ingredients may include NSAIDs, lidocaine, prilocaine, cyclobenzaprine, etc. either by themselves or in combinations. We can also compound pain medications into different dosage forms.
Palliative Care
Palliative Care is "the active total care of patients whose disease is not responsive to curative treatment." The goal of palliative care is the achievement of the best possible quality of life for patients and their families. Symptom Control involves therapies for nausea & vomiting, dry mouth & stomatitis, excessive pulmonary secretions/death rattle, and wound care.
Sports Medicine
Medications that relieve pain, reduce inflammation, and relax muscles can have side effects that are detrimental to athletic performance, such as drowsiness. However, when these medications are administered topically, the therapeutic benefit can be enhanced while significantly reducing the risk of adverse effects. Topical Application Peripheral tissue activity Systemic side effects less likely If analgesic, applied directly over painful site Insignificant serum levels Topical NSAIDs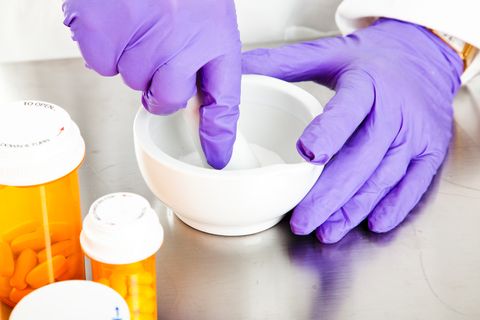 We are a compounding pharmacy, which means we make custom medication tailored to your needs. For example:
If you are allergic to an inactive ingredient, such as a preservative or dye, our pharmacist can make that medication without that ingredient.

If your child cannot swallow pills, we can make a liquid option.

If you take hormones, your body may react better to bioidentical hormone therapy.
Talk to our pharmacist about using compounding to tailor your medication to your unique needs. Together with your doctor, we can find a treatment that works for you.